Presents a New Brand of Refreshing
Shower Drain Products for the Upscale Home
The word 'ART' in the QuARTz product name appropriately reflects a strong visual change from traditional shower drains, offering contemporary solutions for high end shower design.
The latest trend in bath design and remodeling is to create large open showers that provide a luxurious experience. This means increasing the shower footprint for an open, airy and spa-like ambience, and removing barriers such as shower doors for walk-in or step-in convenience. This 'wetroom' trend has already taken hold in Europe and is successfully moving to the North America.
A key to an elegant environment is to ensure for proper drainage, with a system that works efficiently and also brings harmonious design to the shower. ACO Polymer Products, a worldwide leader in drain technology, has responded to this demand, offering the A&D community a creative new line of shower channel products under the brand 'QuARTz by ACO.'
This new line sets a new standard for the wetroom concept, allowing freedom of design for the shower while providing an attractive and modern solution as the channel seamlessly integrates into tile, granite, or marble flooring.
ACO has combined its drain expertise with materials technology to create award-winning European design drain products made of premium stainless steel that are ideal for new larger shower showcases at spas, health clubs, fitness centers, hotels, commercial facilities, and high end residences.
The linear channel drain can be positioned anywhere within the base of the shower; as a threshold, against a wall or wherever the design suits, so it blends seamlessly into the design concept. To the shower user, only the channel grating is visible, making this component a vital visual element. ACO offers several high-end grating designs with strong visual elements that create a spa-like design.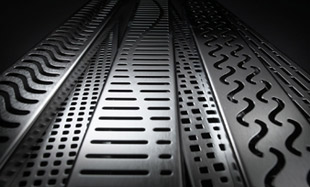 Various options include 'Flag,' a flowing presentation across the grate; 'Wave,' with an artistic wave design moving through the grate; 'Quadrato,' a structured, elegant formation; 'Hawaii,' with elements that appear to move across the grate surface; 'Pixel,' with a random type format; 'Mix,' a linear based formation, and 'Tile,' in which the same tile used to construct the shower floor can be filled into the grate cavity, providing a continual flooring appearance with an almost invisible drain.
Depending on the shower design, these options blend in perfectly with high end flooring for a top caliber finish. All grates are constructed of premium grade 304 stainless steel and have been electropolished for a high surface luster for maximum aesthetics. They are hygienic, easy to maintain, and can be quickly removed for channel cleaning and pipe access.
For the ultimate shower ambiance setting the atmosphere and mood for relaxation and opulence, ACO offers its QuARTz line with lighted illumination from inside the channel. Water entering the drain channel serves as the 'connection' or conduit for current emanating from two small rechargeable batteries. Thus as the shower starts runs, the inside drain lights 'turn on' for a totally unique experience, and then turn off in seconds once the water stops running. These colored lights are available in a selection of red, green, or blue, and also a rainbow of these colors in a single channel. The lights are rechargeable and last for approximately 40 hours of showering time between charges.
The QuARTz shower channel provides a major installation savings for contractors as complex falls and complicated tiling is eliminated. Contractors create a slight one-way pitch (grade) of the shower floor to ensure water funnels to the drain. This eliminates forming a time-consuming and costly 4-way pitch to a point drain that is typically used in the center of the shower. The shallow ACO shower channel is easily connected to a standard 2" drain outlet for fast evacuation of water. Tile contractors will appreciate the easy installation of the line-type drain as it fits neatly in with any size tilework. QuARTz designers have thought of every detail including different edge styles for different floor construction, plumbing connections, leveling feet and other specifics to ensure a perfect installation.
Channel sizes and matching grates are offered in five standard lengths; 700mm (27.55"), 800mm (31.50"), 900mm (35.43"), 1000 (39.37"), or 1200mm (47.25"). The standard width is the same for all channels at 144mm (5.6"). Multiple channels can also be used to create more drain length if needed.
QuARTz by ACO will be a welcome addition in the arsenal of tile contractors, designers, and architects searching for innovative, elegant and customizable solutions to enhance commercial and residential shower and bath areas. Considering the expense of a custom tiled shower, it is a good decision to complement this flooring with the long lasting, functional, and aesthetically pleasing features offered from the QuARTz by ACO shower channel system.
QuARTz shower drains are also an ideal choice for commercial projects, from the quiet serenity of a luxury spa to a sophisticated and sumptuous hotel suite. The elegant grates in the QuARTz line finish the look and stand up to commercial use.
ACO is marketing the new QuARTz line to leading design and bathroom specialists as the cutting edge in shower design, and with total functionality backed by the 60-year industry leader in drainage technology.
| | | |
| --- | --- | --- |
| | | |
| An optional oil-rubbed bronze finish is available for the "QuARTz by ACO" shower channel system. | The wave pattern is featured in this "QuARTz by ACO" channel installation featuring a stone tile appearance. | Water is quickly drained away, and in style too, in the "QuARTz by ACO" shower channel system. |